Coaches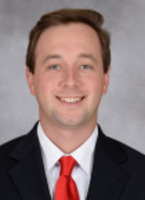 Brian Thomas
Pitching Coach
Phone:
352-222-6566
E-mail:
Brian Thomas joined the Florida Atlantic University baseball staff in October of 2017 as the director of baseball operations. He is currently enrolled in the master's program in higher education leadership.
Previously, Thomas was the varsity pitching coach at Gainesville High School. During his year with the Purple Hurricanes, the program earned their best season in 10 years with a 19-6 record. He handled all facets of the pitching staff, including throwing and conditioning as well as the players' developmental needs.
Thomas also served this summer as pitching coach for the Richmond Jazz of the Great Lakes Summer Collegiate League. Too there, he was the team's first base coach. The year prior, Thomas began his coaching career as the pitching coach as Oak Hill High School, also in Gainesville.
He graduated from and played for Santa Fe High School in Alcachua, Florida, four times earning All-Area recognition (Second Team in 2007 and 2009, Honorable Mention in 2008 and 2010), and eventually went on to play at St. Johns River State College. There, he was a member of the FCSAA All-Academic Team and earned the Mid-Florida Conference Scholar-Athlete Award.
After earning his associate of arts at St. Johns River State, Thomas moved on to the University of Florida, graduating cum laude in 2016 with his bachelor of science degree in food and resource economics, specializing in agribusiness marketing and management.