Coaches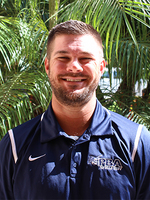 Beau McMillan
Head Coach
Phone:
561-308-1085
E-mail:
Beau is in his fourth season as Associate Head Coach at Palm Beach Atlantic University and his sixth year as Head Coach for the Delray Beach Lightning. McMillan spent a total of six seasons on the coaching staff at his alma mater Lynn University in Boca Raton, FL, which included being a part of the staff for the Fighting Knights' NCAA Division II National Championship team in 2009.
In his first year with LU, he oversaw eight team offensive records shattered as LU won its first national title. The Knights broke marks for at-bats, hits, runs batted in, total bases, runs, walks, on-base percentage and sacrifice flies while also finishing in the top-three for doubles, slugging %, sacrifice hits, batting average and home runs.
The only player in program history to garner First Team All-Sunshine State Conference accolades twice, McMillan left LU with program records for doubles (49), total bases (394), runs scored (200) and stolen bases (77). He also finished in the top-five for games played (196) and started (194), hits (251), at-bats (758), triples (8), home runs (26) and runs batted in (119).
McMillan began his professional career with the Gulf Coast League Marlins before being twice promoted to the Jamestown Jammers of the New York Penn League and the Greensboro Grasshoppers of the South Atlantic League. Before his playing days were through, he had advanced to the Marlins Triple-A affiliate, the Albuquerque Isotopes.
Following his playing career, he worked with Perfect Competition, a company that promotes performance enhancement, skill and professional development and sports nutrition.
A 2004 graduate with a degree in business administration, McMillan resides in Delray Beach.