Coaches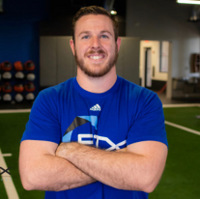 TJ Knoche
Strength & Conditioning Coach
Phone:
954-895-1557
TJ has been a Sports Performance coach and Licensed Athletic Trainer in South Florida for 8 years. As a founding member of Impact Sports Performance in Boca Raton FL TJ has had the privilege of training hundreds of youth, high school, college, and professional athletes. As the Director of Athletic Performance and Client Wellness at FTX Wellness TJ is the direct liaison between Strength and Conditioning coaches and the sports medicine team. TJ is not only a licensed and certified athletic trainer, but he has certifications in Muscle Activation Techniques and Functional Range Conditioning. These certifications are used in mobility assessment and treatment of chronic or acute mobility restrictions and are used at the highest level around the world.
TJ also serves as an athletic trainer and strength and conditioning coach for Lynn university. He is responsible for preseason screening and mobility assessments of all the student athletes attending the university.
Having a diverse background with certifications in sports medicine and sports performance has allowed TJ to work with professional athletes in MMA, Hockey, Baseball, Football, basketball, even olympic weightlifting.