Coaches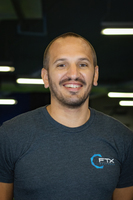 Darin Jerome
Strength & Conditioning Coach
Director of Operations & Sports Performance B.S., CSCS, FRCms
Originally from Aurora, IL, Darin Jerome has lived in South Florida for over 10 years. Darin graduated from Eastern Illinois University earning a Bachelor of Science in 2008. He has been training for over 10 years in South Florida coming from one of Illinois top sports performance centers, Velocity Sports Performance.
During Darin's time at Velocity, he had the privilege of working with elite youth athletes, as well as nationally ranked football and volleyball athletes at the high school and Division-I Collegiate levels. Darin was able to excel training at all age groups, as he himself was a Division-I football athlete at Eastern Illinois University that went through elite training programs throughout his career. Darin attributes his success to the proper training regimens he was placed on that focused on maximizing movement-specific strength and game speed.
While in South Florida, Darin has been specializing in developing speed and agility for athletes of all ages including many youth, high school, collegiate and professional athletes. He has worked with professional athletes from the NFL, NHL, MLB, as well as Olympians. He has also worked as a Strength & Conditioning Coach for Lynn University's Men's and Women's teams that have produced National Champions at the Division II level. He is a certified mobility specialist working with athletes and the general population to help them move freely and pain free as well as working with clients on pre/post rehab strength from injury.